Lake Garda - the poets' paradise
From Sirmione, erstwhile haunt of the Roman poet Catullus, to Salo', home of D'Annunzio's sumptuous villa.
Sirmione
is a picturesque town built on a
narrow peninsula
jutting out onto Italy's
largest lake.
It has been described as the "pearl of Garda" although it is difficult to justify singling it out from all the other charming towns dotted along the shores of the lake. That said, there's something for everyone at Sirmione: from nature-lovers to culture-vultures without forgetting a trip to the
thermal baths
for the stressed-out city-dwellers amongst us.
The main attraction in Sirmione is the castle. Castello Scaligero was commissioned by Mastino I della Scala and boasts Roman and Mediaeval remains, drawbridges and embattlements reflecting Sirmione's past as a garrison town.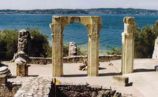 Catullus, the Roman poet, spent long periods of time in Sirmione and celebrated the town in his work. The ruins of his villa and baths -
Grotte di Catullo
- occupy a prime position on the peninsula. To visit them walk the kilometre from the castle, or take the
electric train
, which leaves from Piazzale delle terme during the summer season (April-October).
Water babies can arrange for a
boat trip
around the peninsula, phone +39-030-9905235 for booking information. Sporty types may choose to hire a
bike
and set off to discover the surrounding
countryside.
And, if you're partial to a glass of wine you won't be disappointed as the area is known for its
Lugana DOC
, a good quality white. On your cycle don't be surprised if you spot swans and other aquatic birds and animals as the rivulets which run into the lake, known locally as
ganfi
, are the ideal habitat for water species.
It's time to leave Sirmione behind and head through the olive and lemon groves to the
Park area
(Parco dell'Alto Garda Bresciano)
which comprises
Salò
, home of the
linen industry
and birthplace of
Gaspare Bertolotti
, inventor of the violin. Art lovers will enjoy a visit to the town's many churches and historic buildings. The late Gothic-early Renaissance Cathedral (
Duomo di Salò)
has been recently restored and houses some wonderful paintings and wooden sculptures dating from the days when Salò was part of the Republic of Venice.
You can't go to Salò without visiting the
Vittoriale
, the exotic, some would say kitsch, villa of Italy's ultra-nationalist poet
Gabriele D'Annunzio
in nearby Gardone. You can visit the grounds, house and museum where over 18,000 of the poet's personal belongings are on view.